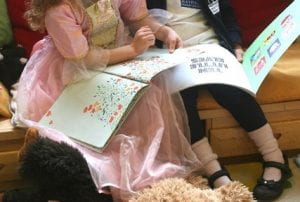 Reading books with your child is very important.  This can be you reading to them,  them reading to you and joint reading.  It is important that they read to you, books appropriate to their reading ability, at least 3 times a week. We'd suggest Bug Club as your first port of call.  Re-reading the same books several times is good practice.
Collings Bigcat Books
If you're running out of reading material at home, you can access some e-books online, as Collins Bigcat books are free until the end of February.
Please use the details below for access:
https://connect.collins.co.uk/school/Portal.aspx
Select 'Teacher'
Enter username: parents@harpercollins.co.uk
Password: Parents!21
Teach your monster to read
A great free(if used on a computer) resource is https://www.teachyourmonstertoread.com/  suggested by one of our parents.  The children can get lost in a progressive game which helps them to learn to read! Mr Holt had to tear himself away from playing to do some other work! 
Bug Club
To read phonetically appropriate books access Bug Club – log in through Pearson Publishing then use the login details we sent to you on Tapestry.  Ask Mrs King or Mr Holt if you do not have them.
Another free resource is https://home.oxfordowl.co.uk/   Here you can create a log in and use some of their resources for free.
Otherwise there are lots of people on Youtube reading stories you can share with your children (make sure you watch them before showing your children to check the videos)
There is also A Book For Children about the Coronavirus if your children want to know more about it.